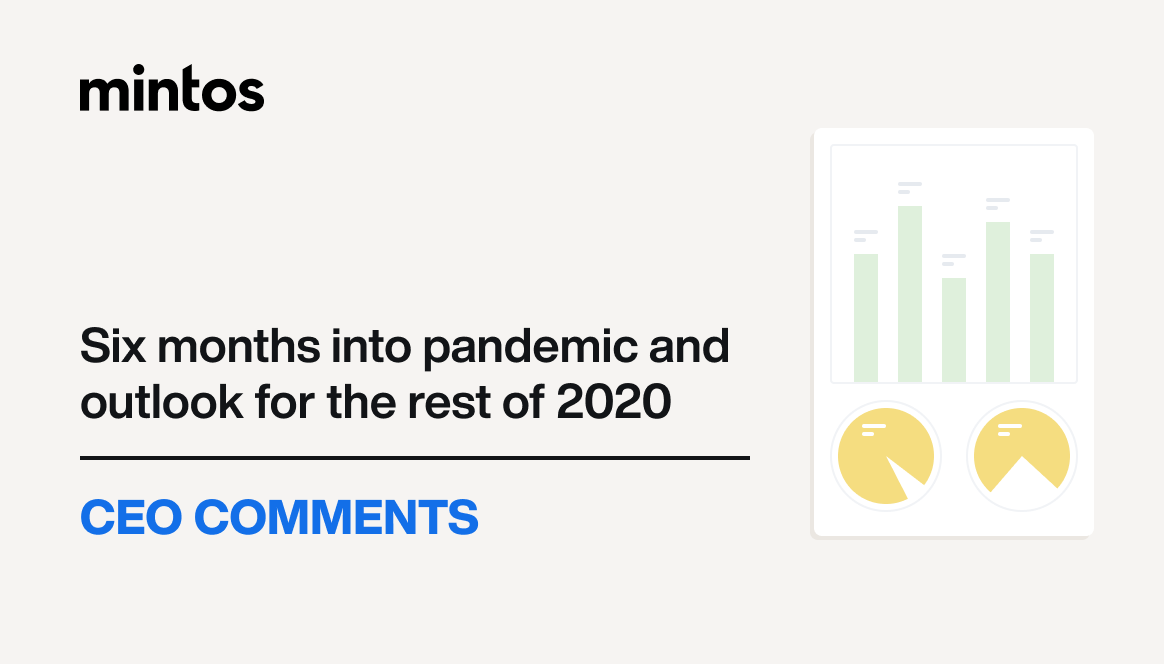 Following the first updates and follow-up updates, we're now sharing new updates by the lending companies on Mintos on how their business is doing after 6 months in the pandemic.
We've asked the lending companies specific questions regarding their borrowers' ability to make repayments, ongoing restrictions that affect their business, any changes in business to adapt to the current market situation, as well as about their business outlook for the upcoming months.
We'll regularly update this blog with new announcements within the next two or three weeks, so stay tuned and make sure to revisit once in a while.
Announcements:
1. DelfinGroup's follow-up announcement for investors
2. Mikrokapital: "We have fully restored offline work and reached the pre-crisis level on loans issuing and debt collection"
---
October 13, 2020
DelfinGroup's follow-up announcement for investors
"On 20 March 2020, we at DelfinGroup provided information to investors regarding the company's actions in relation to the state declared an emergency situation in Latvia on 12 March 2020. The company's initial focus was on securing cash reserves and reviewing its cost structure. In addition, a stricter assessment of customers' solvency was introduced. The state of emergency was lifted on 10 June 2020.
During the state of emergency with the measures introduced, the lowest monthly issuance level was in April (€ 2.1 million which is 49% lower than in February 2020). With the lifting of emergency measures on 10 June 2020, the demand for DelfinGroup loans had increased significantly. Highest ever monthly issuance level, since the foundation of the company, was reached in August 2020 – issuing € 5 million, which is 14% higher than in August 2019. During the state of emergency and now, DelfinGroup has been actively working to introduce product improvements for providing better customer service.
The following issuance increase in 3rd quarter of 2020 compared with 2nd quarter of 2020 was achieved:
Q1 2020

EUR, million

Q2 2020

EUR, million

Q3 2020

EUR, million

Change Q3 vs Q2 in %

Total Pawn loans issued

5.1

3.7

5.2

+40.5%

Total Consumer loans issued

6.5

4.8

9.4

+95.8%

Total issued amount

11.5

8.5

14.6

+71.8%
Based on the Group's conservative credit policy and stable and reliable customer base, the non-performing loan ratio has stayed relatively low, showing that currently there are no notable changes in portfolio quality. There is a slight increase in NPL (non-performing loans) at the end of 1st quarter 2020, following recovery in the end of upcoming quarters:
Non-performing loan ratio:
NPL* in %

3

1.12.2019

4.1%

3

1.03.2020

5.2%

30.06.2020

5.0%

30.09.2020

4.7%
*Non-performing loan ratio calculated as 90+ day delay portfolio to consumer loan portfolio
The Parliament of the Republic of Latvia has adopted the Law on the Suppression of Consequences of the Spread of COVID-19 Infection in which the limits for late payment interest on default of the performance have been set for the period starting 1 April 2020 to 1 September 2020 (https://likumi.lv/ta/en/en/id/315287). As late payment interest in 2019 was only 4% of Group's total income, this regulation has no significant effect on the Group's income statement. There haven't been any other decisions made by the Government or regulator with a direct impact to DelfinGroup's business.
With regard to the total income, the Group's income has steadily increased over the period of three quarters of 2020, with a lower income in the second quarter:
Q1 2020

EUR, million

Q2 2020

EUR, million

Q3 2020

EUR, million

Change Q3 vs Q2 in %

Total pawn and consumer income*

4,78

4,07

4,81

+18.2%
*Total income generated for pawn and consumer loans
During these difficult conditions of 2020, DelfinGroup has successfully attracted bond financing. In the 2nd quarter of 2020, the company attracted additional financing in the amount of € 0.98 million for the bonds (ISIN LV0000802379), issued on 15 November 2019, which have been issued as of 31 July 2020 in the full amount of € 5 million. As of 11 August 2020, these bonds have been included in the Nasdaq Riga Baltic First North Bond List, thus three DelfinGroup bonds have been included for trading on Nasdaq Riga stock exchange.
Additionally, on 23 September 2020, DelfinGroup registered new private placement unsecured notes issued in the amount of € 3,5 million, and on 30 September 2020, the subscription was successfully completed with the demand exceeding the supply of securities for the issue. The issue arranger was Signet Bank and issue was subscribed by new and existing private and institutional investors.
We understand that the situation related to COVID-19 is still unpredictable and we are closely monitoring the development of it. We are ready to take all the necessary actions regarding the safety measures in our branches and to ensure the health of our employees."
---
October 13, 2020
Mikrokapital: "We have fully restored offline work and reached the pre-crisis level on loans issuing and debt collection"
Mikro Kapital has been operating on the Mintos marketplace since April 2019, offering investment in business loans issued in the Russian Federation, Romania, Moldova and Belarus.
Some time ago, we caught up with the CEO of Mikro Kapital, Svetlana Chubakova, to learn more about the company's current position amidst pandemic and its vision for the future.
1. Has the global pandemic impacted Mikro Kapital's business? Which changes or actions did you make during this time?
"Yes of course. Mikro Kapital is a part of the Russian economy and financial sector, and everything that happens on the market affects our company. Everything related to our clients, including the risks that have such a global impact on industries and customer segments, affects Mikro Kapital. During the pandemic we saw how markets, shopping centers and even some cities were closed, how entire industries were suspended. During the period of strict self-isolation from April to May, we recorded a decrease in demand for new loans, but at the same time, we saw an increase of requests from clients who faced difficulties in repaying previously assumed obligations, but aimed to solve their difficulties and save partnership relations with us. We were acting in accordance with the law and providing clients with credit holidays. For those of them whose profile did not fit the requirements of the law on credit holidays, we promptly developed a product of simplified restructuring and gave them an opportunity to go through these difficulties smoothly."
2. How do you see the remaining months of 2020 for Mikro Kapital business? Do you foresee any improvements or change in borrowers' behavior?
"Everything depends on the epidemiological situation – will we see a second wave of the epidemic, and how severe will be the restrictive measures that may follow? We expect that some surge in incidence may occur before the end of the year, but hope that the government will not impose global restrictions. We have an optimistic view and believe that the autumn-winter season awaits our clients and the demand for loans will continue. According to our outlook, Mikro Kapital business will not suffer until the end of 2020. Even during the most peak and dramatic months in terms of restrictive measures – April, May and June – we did not suspend our activities and issued new loans to our clients. Analyzing the repayment rate, we may note that the loans issued during this period are not in default, which means that the client profile we have chosen has successfully coped with the challenges of the new reality. And most likely, they will successfully go through new barriers. And we will support them."
3. Can you please comment on the current quality of loans offered for investing on Mintos? We see contradicting opinions, yet many banks are reporting losses due to borrowers' lack of repayments and weakened debt collections process due to pandemic related restrictions. Could the situation be any different for you?
"From March to May, the amount of collected debts was less than usual and this is mostly related to the restrictive measures – enforcement proceedings, courts, arbitrations were suspended, social contacts were also paused by the self-isolation regime. Since June, we have fully restored offline work and reached the pre-crisis level on loans issuing and debt collection. Summing up the results of the first half-year, we may note that now we even have exceeded the pre-crisis level in both directions. We see no negative trend and the quality of our portfolio has not deteriorated. We have made many efforts to maintain the situation and the quality of the portfolio, to support new issues and the set rate of collection. Partially, we may see such a positive trend due to the client profile we work with. It was our clients who found internal and external resources in order to cope with the situation and get out of it with the least losses."
4. At the time of the last interview with Mikro Kapital in August last year, you mentioned the company is testing new niche clients such as potential customers in the e-commerce sector. Has that project developed and do you plan to come back to it once global uncertainty over the finance market lessens?
"Yes, indeed, we worked on the e-commerce segment in terms of introducing a new niche offer, and in general, the results of the pilot testing were quite interesting. At the same time, working with this segment and experience with the coronavirus push us to digitize all processes and work online. We understand that, on one hand, this format is convenient for the client – they can get financing without leaving home, on the other hand, it is beneficial for us as well – we reduce the cost of issuing. This year we launched a scoring product that allows clients to get a loan of up to 500 thousand rubles very quickly and easily – for such applications, we receive all information about the borrower from databases, and the client receives a decision within 30 minutes. In addition, in the near future we are launching a project related to financing of government contracts, where the entire client path will be digitized – work is carried out in personal accounts through electronic document management and electronic digital signatures of all participants."
5. Please share more on the service you provide for your clients.
"Our client is always an entrepreneur who is engaged in business in any format. In other words, all entrepreneurs could be our potential clients, and we are ready to finance any of their tasks – from business development, such as opening of a new business line, the expansion of the current business, territorial expansion or personal needs if he wants to buy a car or real estate for himself. However, we always work only with entrepreneurs.
The client always has a choice in which format they receive our support – it could be a classic loan, leasing and even factoring – in the Mikro Kapital holding we have any kind of these services. Because of the pandemic, we have not seen a significant change in client's needs. Of course, we may note an increase of demand for financing of cash gaps and replenish working capital, but we did not record any huge changes in the demand for loans in general."
6. Could you describe who your clients are? Volumes of loans, areas of business that clients take the loans for, the geography of clients (capital or rural areas), age?
"Mikro Kapital business is represented in 47 cities of Russia, with a third of its offices in the Caucasus. We work in very small towns, medium-sized and in cities with over a million people. We work with clients in retail and wholesale trade, manufacturing, as well as those who provide services or are involved in farming and agriculture. Of course, there is a dependence on the region and the dominant industry in the portfolio, for example, agriculture traditionally prevails in the southern and Caucasus regions. Most of our clients are entrepreneurs aged 41 to 60, the second place is taken by the age group of 25-40, plus more young entrepreneurs who are also our borrowers.
In general, the demand for financing does not depend on the specifics of the business. If we are talking about agriculture, then the money goes into investments for the sowing campaign, if this is the trade sector, then for the purchase of goods before the season, if this is production, then financing is needed to update the equipment park or purchase vehicles."
7. Is there anything that has surprised you during the last six months of work under the pandemic conditions? The behavior of clients/ regulators or anything else?
"It was a pleasant surprise for us to discover that our clients were able to cope with a rather serious challenge of pandemic and restrictions. Some of them used their savings, and these facts confirm that our clients were able to predict possible risks. Some of them, following the trends and situation, rebuilt business models and launched online sales, organized the delivery of their goods and implemented additional services. Entrepreneurs have made every possible effort not to lose their business, minimize losses and have found a way to make money in this new reality. We are pleased that the clients whom we have trusted and provided credit holidays show a good and stable statistic of repayments. Even after the end of special restructured schedules, our clients fulfill their obligations and make all the payments on time."